We hope you are staying well. As most of you are navigating running a business in these unprecedented times, we hope to continue bringing you valuable marketing content to help guide your promotional strategies and sustain your businesses we all care deeply about.
People are relying even more on their electronic devices to connect to the world, creating a great opportunity for you to communicate with them online through a number of digital channels. In addition to email, social media, search engine, content, and mobile strategies, your digital display ad strategy is equally important. Digital display ads have stood the test of time and are an integral part of successfully reaching customers. Display ads are effective because they:
• Have visually appealing graphic options to support brand awareness.
• Drive traffic back to your website or landing page.
• Can target specific audiences.
• Have measurable results to help you understand their effectiveness.
However, as the web gets more saturated with advertising, it's becoming increasingly difficult to make your ad stand out. You must understand what makes a great digital banner ad that website visitors will notice and actually want to click on.
What are display banner ads?
A banner ad is a rectangular online display ad on a website and clicks through to a business's website or landing page. There are a number of different web banner sizes. The ones we offer on our highly-trafficked websites are:
What makes a great display banner ad?
With over 700,000 unique visitors across our trusted local news sites, our digital display advertising options present a distinctive and highly-targeted opportunity to put your message in front of locals interested in your business. But your results will only be as effective as your ad. Don't let your message go unnoticed by locals. Make sure your banner display ad does these four things:

#1 Grabs attention
You have about two seconds to grab distracted readers' attention. Clean but bold designs make ads really pop. Experiment with color and easy-to-read fonts. One image or graphic that showcases your product can also catch a reader's eye. Too many images and your ad will get lost in the shuffle.
#2 Creates a clear message
Unlike large print ads, display ads are obviously compact, so you're going to want to keep your message simple and impactful. Focus on one main message and call to action (CTA). Overwhelming a reader with too much information will only make them want to keep scrolling.
#3 Uses creativity to stand out from other ads
This is your opportunity to showcase your unique value proposition. Experiment with bold copy that conveys your main message immediately. You can also experiment with animated GIFs and video ads that will add a layer of creativity.
#4 Gets clicks
Most importantly, you need to clearly tell the readers exactly why they should click on your ad. Whether it's "Learn more," "Shop Now," "Order Online," "Buy Tickets" or "Book an Appointment," your CTA needs to be unmistakable. This message needs to be compelling and crystal clear.
5 Examples of Our Clients' Effective Digital Ads
ThreeEQ Leaderboard Ad
The red color and clear messaging make this ThreeEQ ad super effective. It will get plenty of eyes, but it will only catch the attention of those interested in college admissions. A highly targeted ad like this ensures that more clicks will be warm leads actively looking for college admission advisors.


Silray Skyscraper Ad
Silray's use of imagery draws your attention immediately to the man wearing a mask. The reader's eyes are then drawn down to the bold blue background, and the strategic use of all caps lets the reader immediately know that they have these items in stock. They also use another bold and complementary color (orange) to make the CTA pop.
DeLeon Leaderboard Ad
This DeLeon ad gives just enough information to entice interested readers without going overboard on too many details that should be on the landing page this ad clicks through to. The message is clear and anyone interested in this topic will immediately be drawn to the red CTA button.

Juva Billboard Ad
The bright colors and fun but-readable font, make this Juva ad really stand out. Their value proposition is crystal clear and the graphic ads an element of play. They also offer a discount which is a highly attractive call to action.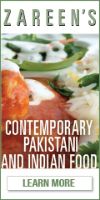 Zareen's Vertical Banner Ad
Is your mouth watering from this Zareen's ad? The food image immediately grabs any hungry reader's attention, the clear and brief messaging makes them want to know more, and the direct CTA tells them exactly how to do that!
Need help with your digital advertising strategy?
More locals are online than ever before, but understanding how to create an effective and holistic digital advertising strategy is no simple task. That's why we give special attention to our advertising clients to ensure their ads follow best practices and will deliver the results they're looking for.