Case Studies
Corman-Montoya
How A Pair of Local Realtors Used Email Marketing to Get Customer Inquiries Online During the COVID-19 Crisis
Background
Real estate agents Monica Corman and Mandy Montoya work with clients in some of the Peninsula's most affluent communities. With 20 years of experience bolstered by deep community ties, they've built a strong client base in the area and become experts at utilizing hyper-local marketing strategies.
One consistent element in their advertising toolkit is Embarcadero Media. Our award-winning print papers and community websites target the narrow audience that Monica and Mandy serve, and, "nothing else feels as hyper-local as Embarcadero," says Montoya. The shelter-in-place has changed the real estate field, but this dynamic pair wasted no time customizing their strategy with Embarcadero's sales team, thus managing to stay top-of-mind even in an uncertain landscape.
Goals
Corman and Montoya had a few primary goals when building their advertising strategy:
Finding a budget-friendly ad schedule that would keep their ads running frequently
Targeting an engaged and hyper-local audience
Connecting more with locals online, given their inability to build relationships with new clients in person
Solution
To meet all of their criteria, VP of Sales at Embarcadero Media Tom Zahiralis identified the Express newsletter as the best value for their effort. Express is a daily news digest emailed to as many as 51,000 opt-in subscribers—about 35,000 on the Peninsula and 16,000 in the Tri-Valley—each weekday. Ads are seen by each community's most engaged readers, yet the cost to start an Express campaign is relatively low. Erica Galles, Compass real estate agent and member of the Corman/Montoya team, said "Tom Zahiralis was instrumental in helping us navigate moving into Express ads." Once familiar with their objective, Express became a clear choice that addressed each of their goals directly: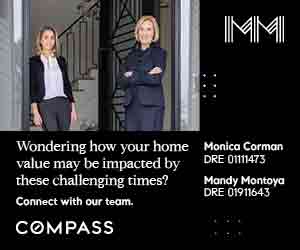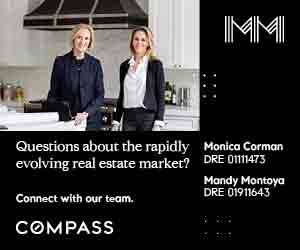 Express is cost-effective, which gives them the opportunity to schedule ads continuously so they are more likely to reach the right reader at the right time.
An open rate of over 50% reflects readers who are engaged--the 51,000 opt-in subscribers rely on Express's in-depth reporting to stay informed on community issues.
Exclusive ad placements mean all eyes are on their ad. This helps make up for the loss of in-person networking opportunities and gives them constant opportunities to introduce themselves to new buyers and sellers.
Results
The team created an Express campaign and linked their digital ads to an online form on their website where potential clients could reach out with questions. This form, while useful, had only yielded a small handful of inquiries over the course of several years. After six weeks of advertising in Express, Corman and Montoya were receiving multiple inquiries per week. In addition to new clientele, they feel like they've been able to maintain a large presence in the community despite everyone sheltering at home.
"There are so many benefits to digital marketing," the Corman/Montoya team says. "It's cost effective, we can target more specifically and it is, to some extent, measurable." Although the shelter-in-place has forced them to adjust their advertising strategies, it's also opened up new digital channels that allow for community connection. "We always want to be in front of people in every place that they access information [online and in print]," the team says. "One size does not fit all and people access information in a variety of ways. We want to cast as wide a net as possible and local papers are really important."